| | |
| --- | --- |
| | |
"Eyes to the Future," based at TERC, Inc., in Cambridge, MA, intervenes with middle-school girls of all abilities before they have chosen or ruled out possible futures for themselves. This multi-age mentoring program uses the Web to link middle-school girls with high-school girls in their school districts who have stayed interested in science and technology and with women who use science and technology in their careers. We aim to provide urban middle-school girls with role models who have pursued science and technology in high school and beyond. "Eyes to the Future" gives girls broader knowledge of possible futures in high school and science- and technology-related careers as well as personal relationships with female role models who can lend emotional and academic support.
History of "Eyes to the Future"
"Eyes to the Future" began in the fall of 1997 as a pilot program supported by Arthur D. Little Foundation. In this first phase of the pilot,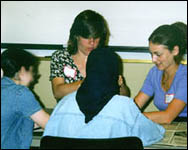 which was conducted in collaboration with one middle school and one high school in Somerville, MA, fifteen middle-school girls, five high-school girls, and five adult women took part. The middle-school girls represented a wide range of academic achievement and broad ethnic diversity. High-school mentors who were known to be responsible, engaging, and strong in math and science were selected with the help of the high-school science coordinator; adult mentors included a boat builder-engineer, an ecologist, a veterinary technician, a pediatrician, and a geologist.
The success of the initial implementation led to an extended pilot in the 1998-1999 school year that included two middle schools and two high schools in the Boston area. In the two participating middle schools, approximately fifteen girls met once a week at an after-school club at each middle school. Girls were recruited from a wide range of abilities, interests, and career aspirations. Adult mentors during this second year of the pilot included astronomers, engineers, women in medical fields, and biologists. A teacher at each middle school worked with us as a co-facilitator for the program.
In addition to the electronic communication component that was the focus of the first phase of the pilot, in the second phase,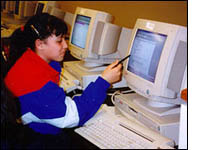 the girls also spent approximately four weeks engaging in science and technology investigations and communiced with their high-school and adult mentors about the project. The middle-school girls also chose selections from their discussions with their mentors for inclusion in their personal electronic scrapbooks. At the end of the semester, girls selected portions of their scrapbooks for entry into an electronic collaborative book called "Eyes to the Future." The book was distributed in print and electronic forms to students, parents, and teachers. (See the Speak Out section of this website to read the books the girls wrote.)
The continued success of the pilot led to full implementation of "Eyes to the Future" as a 3-year NSF-funded program. In the first year of the NSF grant, 1999-2000, the program expanded to reach middle-school girls from two schools in Somerville, MA, and three schools in Brookline, MA. No prior experience with technology was required for a girl to be included in the program. Adult mentors came from fields in earth, space, and sea science, such as astronomy, ecology, marine biology, forestry, and archaeology. High-school mentors were recruited from among academically talented and motivated 11th- and 12th-grade girls from the high schools in the two communities.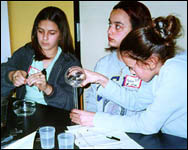 In addition to communicating with their mentors and engaging in a variety of science activities, girls who participated in the program during 1999-2000 also wrote articles about their mentors and about their experiences in the program. Using web-based tools developed by "Eyes to the Future" staff, the girls turned their articles into webpages and published their pages as an online magazine called "Speak Out!". The magazine is now available on the web and has been presented to parents, teachers, and the community. (See the Speak Out section of this website to access the magazine.)
Mentoring and Electronic Communication
With teachers at participating schools, we place participants into "teams" of three middle-school girls, one high-school girl from the same district, and one adult mentor each. The middle-school girls meet weekly in an after-school club where they use the project website to communicate with their high-school and adult mentors. Each team of three middle-school girls, one high-school girl, and one adult has its own private discussion area on the website; middle-school girls, high-school mentors, adult mentors, and teachers have their own separate discussion areas, as well. When a participant logs into the site, the website notifies her if she has new mail and tells her which of her messages are unread. The website also supports collaborative writing and the sharing of information about science projects. (For more on the project website, see the "Website Demo" section of this site.)

Middle-School Girl:
What's up [mentor name] me not so good because I just got my report card and it doesn't look good for me... I don't want to go to school tomorrow. Yo!, if I don't write you back tomorrow I'm absent cause I have enough of this teachers.

High-School Mentor:
Hello... glad to hear from you again. You sound kind of depressed. ... You know what I do? I push myself over their [teachers'] expectations. If they think lowly of me, I prove them wrong and make them feel embarrassed that they ever said those things to me. Do extra hard in math Make him/her EAT her/his words. Go to school... although school may not seem fun, at least you're with your friends. That's what I want you to do.

Middle-School Girl:
THANKS FOR CARING AND I'M HERE TODAY

---


Middle-School Girl:
What does boat building have to do with physics?

Adult Mentor (Boat Builder):
What does building or fixing boats have to do with physics? When I started working with boats, I learned about how they move through the water, what the wave profile (waterline) looks like on a boat as it moves at different speeds through the water. That's where some of the physics comes in. Figuring out how fast something moves is a kind of physics problem that involves a distance and, some specific amount of time; and then you can determine the speed or velocity of the object.

Middle School Girl:
All that stuff about how building boats is realted to physics sounds really cool ... What made you want to become a physicst? [Did I spell phycist right]


Middle-School Girls and High-School Mentors
High-school girls can look at middle-school girls' concerns from the point of view of someone who has "been there" recently. Carefully selected 11th- and 12th-grade mentors can offer valuable advice about staying involved with science and math in high school, including tips on studying, consequences of course choices, coping with academic stress, finding supportive teachers, and ways to locate math and science clubs.
Many middle-school girls are anxious about entering high school and know little about clubs and supportive teachers that could support their science and math learning and achievement. High-school mentors' advice and moral support is particularly valuable because they attend the high school that the middle-school girls will soon be attending. High-school juniors also provide the assurance that they will be there to welcome the 8th graders when they arrive at the high school.
Middle-School Girls and Women Mentors
Women mentors in science and technology fields provide a fresh perspective on the relevance and "real life" applications of the science and math being taught in middle-school classrooms. Many middle-school girls know little about professions, arts, and trades that involve science and math components. They rarely see their current classes in the context of possible careers. Disadvantaged and minority students often lack female role models who would make science and math seem more relevant to their own futures. Many girls lack confidence in their ability to succeed in math and science and know little about particular branches of science such as biology, chemistry, and physics.
In "Eyes to the Future, girls develop year-long relationships with adult mentors and benefit from ongoing dialogues about how mentors chose their careers, how they use science and math at work, what schooling is needed for such a profession, what challenges they face, and what it feels like to be a woman in these fields. Girls broaden their understanding of different fields and explore different paths for the future and how science could be a part of their lives.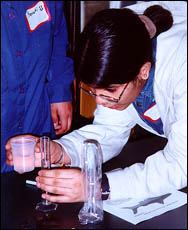 An essential element of "Eyes to the Future" is that students conduct enriched science activities and also take the time to reflect, write, and communicate about the science they do. At the after-school clubs, students engage in science activities in the areas of earth, sea, and space sciences, both with and without their mentors. During the 1999-2000 school year, participants have designed rockets powered by balloons, tested various water samples to determin pH, salinity, and chlorine content, and explored biodiversity in their local neighborhoods. In addition, students explore local science institutions where their adult mentors work, such as the New England Aquarium in Boston and the Harvard-Smithsonian Center for Astrophysics in Cambridge, to get a sense of the kinds of science that are being done in the Boston area.
We work closely with teacher-facilitators and mentors to tailor activities for each school. Science activities vary from year to year in the program depending on the mentors', teachers', and students' interest. At the after-school clubs, girls write about their activities to their high-school and adult mentors using the "Eyes to the Future" website, and mentors can send feedback and relate the girls' activities to their own day-to-day work.
Creating an Online Magazine
Throughout the program, the 7th- and 8th-grade girls take on the role of "investigative reporters" whose goal it is to produce an online magazine, called "Speak Out!", for other girls their age. Based on their experiences in "Eyes to the Future," the girls write articles about their high-school and adult mentors, about what science is like in high school and in the workplace, and about what it's like to be a girl in middle school today. This writing component of the program helps the girls reflect on their experiences and think about their own views on what role science might have in their lives. Using tools created by "Eyes to the Future," the girls turn their articles into webpages, complete with color, images, and links. Once the pages are finished, the girls publish their work in the online magazine, where it is publicly available on the web. To read the magazine, please go to the Speak Out section of this website.
Publications About "Eyes to the Future"